The types and forms of real estate property deeds vary depending on the State and Counties where the deeds are recorded and archived. Copies of deeds are offered from property reports in all Counties (currently in over 1,550 Counties) where we offer Document Images. Property deed samples are actual copies of deeds, including the most common deed types and special purpose deeds. Certain sensitive data may be redacted for illustrative purposes, but actual deed copies contain the complete unabridged information. In addition to property deeds, many other real estate document copies can also be found, such as mortgage documents, foreclosure records, formal notices, affidavits, copies of liens, and judgements filed against a property or a person who owns a real estate property.
As with all other records we offer, copies of deeds and other documents are delivered instantaneously — no waiting!
COMMON TYPE DEED SAMPLES
Quitclaim Deeds (or Quit Claim Deeds)
Warranty Deeds
Grant Deeds
Bargain and Sale Deeds
Fiduciary Deeds
Deeds of Trust (or Trust Deeds)
SPECIAL PURPOSE DEED SAMPLES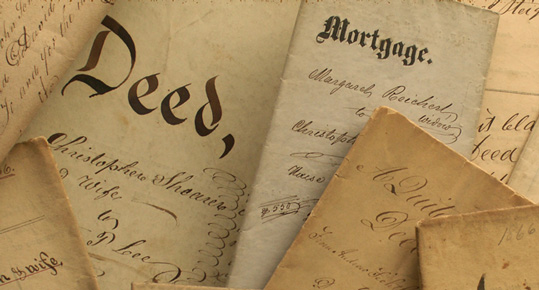 Additional details about the deed copies, types of real estate deeds, and definitions can be found on the Property Deeds & Recorded Documents Online information page.
 How to find a copy of a deed: Copies of property deeds (Document Images) cannot be searched by a document/instrument number – they must be requested from the specific links within your obtained reports. First, you must get a Detailed, Title History, Legal & Vesting, Voluntary Liens, or Mega Report on your subject property, and then select a property deed copy you want to obtain. Various other document copies may be available from the Liens & Docs and Involuntary Liens reports. That retrieval logic has been highly reliable because when multiple filings are in place, you do not need to second-guess which copies of deeds to request. As long as property deed copies are offered in that County and are available for the subject property, the links labeled "Purchase Document" will appear within your reports.
Please review our posted reports' Samples to see what copies of deeds and recorded documents are offered from various property reports. From Detailed Reports, you can find deeds of the most recent title transfer or the last sale transaction recorded on the property and deeds of one prior property sale record. You can find deeds of previously recorded title transfers, sales, and mortgages from Title History, Voluntary Liens, and Mega Reports.