This sample is an actual Assessor's Parcel Map, also known as a Tax Map. These plat maps are available for immediate retrieval and download in our COVERAGE areas. Please click on the thumbnail image to view the full version of this Assessor's Parcel Map example.
32971 CESENA ST, TEMECULA, CA 92592, RIVERSIDE COUNTY; APN 959-282-010; Map Sheet: 1 of 1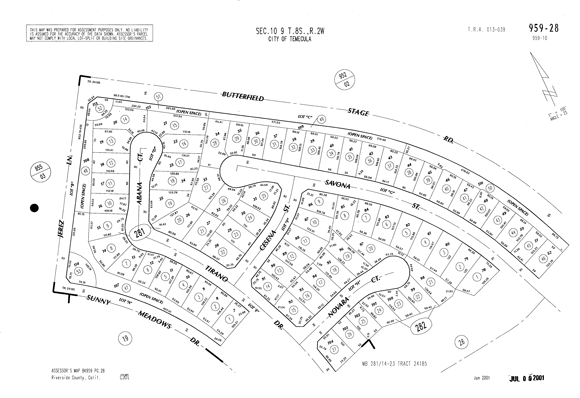 ---
One of the ways to identify a subject property on the Parcel Map is to look at the last digits in its Assessor's Parcel Number (APN). For example, a parcel number '10' on the map corresponds to a property with an APN "959-282-010 – the other parts are book, page, and block numbers. You may also refer to a property location on a street map for a perceptible orientation.
 Additional details about Parcel Maps can be found on the Assessor Parcel Maps Info page.
 How to get it: Assessor Parcel Maps are offered in all plans. Standard Monthly and Power User subscribers can search for them directly. Double-Deal and Dozen-Deal subscribers can request them as an additional purchase after obtaining a Detailed Report on the subject property. Some Parcel Maps may have more than a single page -- with us, you do not pay per page -- the pricing covers the entire requested and generated map. Our Plan Comparison conveniently lists all subscription choices; you can make your selection and continue with enrollment from that page.
The information contained in Parcel Maps, their format, presentation, and the actual quality of images may vary due to the regional specifics and local bookkeeping practices. HomeInfoMax presents everything "as-is" and assumes no responsibility for the accuracy or validity of public property records.