Property Records Radius Search Info
Professionals who are in the practice of real estate are familiar with "Real Estate Farming", also known as "Neighborhood Farming." This is a prospecting tool for cultivating and identifying new leads that potentially generate new business.
Radius Search is similar to Farming, except it also can be used for identifying immediate properties and property owners in a close proximity from the target property within specified and localized distances. Unlike the peculiarities of traditional Farming designed for real estate marketing, an all-inclusive Radius Search is also intended to ease the task of locating and contacting the owners of neighboring properties. Radius Search locates nearby properties regardless if properties are for sale or not.
This up-to-the-minute system is ideal for locating area-defined property records, including owner names within your specified and targeted radius.
How it works: Regardless of real estate skills, it is flexible enough to be used by anybody. The process is intuitive and simple - user-friendly interface allows you to input the target properly and specify several required and optional specified entries to optimize the return.
The Required Values are:
 

Radius from 528 feet (0.1 mile) to 9.9 miles

 

Geographic Criterion of Same City, ZIP Code, Census Track, or Subdivision

 

Living Area Variance in percentages – can be unspecified

 

Last Sale Date going back in months – can be unspecified
The Optional Values are:
 

Number of Bedrooms

 

Number of Bathrooms

 

Lot Size in square feet

 

Land Use 'Same as Subject' or 'No Preference'

 

Pool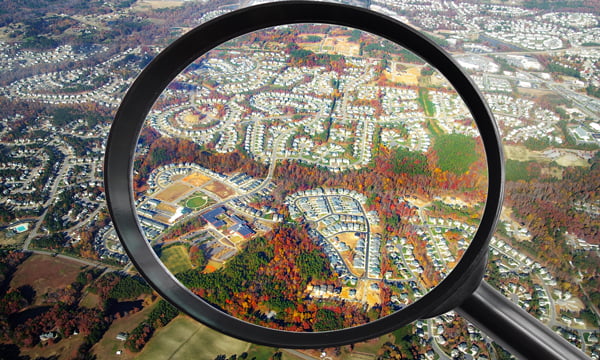 Maximum Number of Results can also be specified from 9 possible tiers ranging from 25 to 1,000. The Required Values can be combined with the Optional Values to achieve the utmost return. In situations with more than 1,000 matches, the system will ask to modify the search and refine the criterion.
The Radius Search application works with all available search methods: Street Address, Owner Name, or APN – it is available in all areas where property records are offered.
How to get it: The Radius Search interface is available to all our subscribers. You must enroll to one of our Subscription Plans to get an instant access to the databases.
Sending mandatory or voluntary messages to your neighbors, notifying about special neighboring events, or complying with localized building codes or court orders has never been easier or more convenient with our Radius Search generator…