Assessor Parcel Maps Info
Assessor Parcel Maps, also referred to as Parcel Maps, Tax Maps, Plat Maps, or Assessor's Maps, reflect each parcel's legal boundaries and dimensions. A parcel is a piece of real property under a defined ownership, or it can be a lot in a subdivision. Local governments administer and legislate through the creation of and maintenance of land records that are associated with a parcel of land. The parcel is often the vital administrative unit of local governments. A civil engineer draws parcel maps when the County planning commission initially creates and approves development. Parcel maps are developed and maintained at many levels of government, such as the Planning, Zoning & Building Department, and the private sector. The City or County may approve a parcel map when it meets the general plan requirements and all applicable laws and ordinances. The State Subdivision Map Act and the local subdivision ordinance regulate and govern the filing and processing of parcel maps. In addition to other purposes, parcel maps primarily serve as the basis for land value assessments. Besides tax evaluation, many public and private organizations, as well as citizens, utilize parcel data in a range of creative ways. Some universal examples are administration, zoning, building and site development, flood control, lake, and stream erosion management, a dispute over boundary lines, disaster recovery plans, re-assessment of property for equitable taxation, supervision and regulation of public transportation and traffic, and buying and selling land. Parcel maps are also valuable for attorneys, appraisers, assessors, realtors, financial planners, surveyors, engineers, and most utility providers to inventory land holdings and index land records.
From state agency planning commissions to private businesses reselling marketing data, needs are different and diverse. Yet, all rely on the core parcel data collected by the municipality and maintained by the local government. Today the most commonly used parcel maps are local government tax parcel maps. Tax maps are designed for plotting, locating, and describing properties linked to landowners, property tax bills, and other assessments. Because of these focused needs, tax maps tend to be more general in representing parcel locations and dimensions rather than a highly accurate illustration of legal land ownership.
A Parcel Map may be called a Plat Map or a Plot Map. Those definitions are not entirely accurate. A Plat is a plan or a map of a specific land area and generally entails a subdivision. A Plot is a diagram displaying the proposed or existing use of a particular parcel of land. To produce a utilitarian Plat map or draw a Plot plan, one must rely on the most recent Assessor's Parcel Map and neighborhood addresses. Other names associated with Parcel Maps are Land Maps, Tax Maps, Real Estate Maps, Lot and Block Survey System, and Land Survey Maps. Parcel maps, unlike any other real estate-related records, have no federal or State oversight of their development. The federal government never supervised or sanctioned the development of parcel maps, and since everything is at a local level, all standards tend to vary. Due to this specification, certain controversy still exists with "parcel map" definitions and categorizations.
Parcel Maps, like other real estate filings, are public records. We are the largest online provider of assessor's parcel maps nationwide. This database completeness varies by State and by County. Therefore, before requesting a map copy, check State/County Coverage and make sure it is available in your desired area.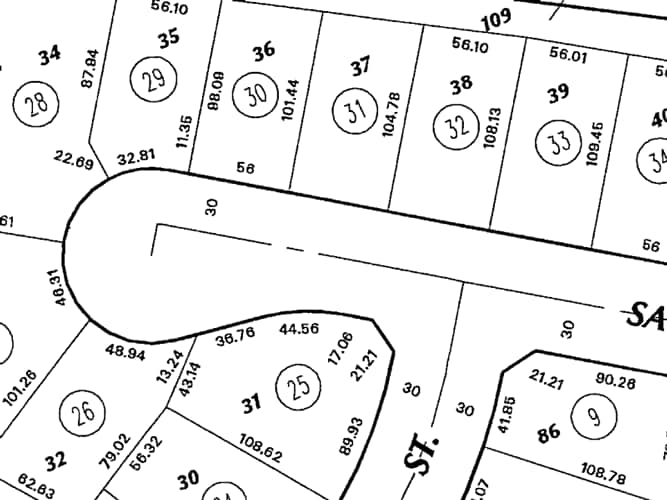 The fee for obtaining a parcel map includes all sheets on that file. On certain properties, several map sheets may appear per query, depending on the book and map number of the parcel. Individual parcel or page numbers are commonly contained within parcel boundaries on the map. If more than one map filing exists for a subject property, a list of all available map sheets will be presented. You can select whatever you need; however, having more than one map per single parcel is not too rare. Not only do you no longer need to go to the local County courthouse for parcel map retrieval, but you do not even need to know the Assessor's Parcel Number or the Block and Page number to request the copy. You can search with the property address, A.P.N., or even statewide and nationwide with a current owner name -- that is all you need to do to instantaneously locate and download all copies of maps for that piece of real estate.
The logic behind Assessor Parcel Maps is to provide instant retrieval of copies of the most recent parcel maps. Plat maps are needed during subdivision or property changes and are essential for public access. Parcel maps have no legal role in determining property ownership or chain of title.
Types of Properties: residential, commercial, industrial, agricultural, land, and all other available types of Real Estate Properties.
Contents of Assessor Parcel Maps: municipal map is drawn to scale, displaying the divisions of a piece of land, the distance and bearing between survey corners, and at times including topographic or vegetation information. City, Town, or Village plats also show subdivisions into blocks with numbered streets and alleys. Complementary enhancement often splits blocks into individual lots, mainly for marketing or developing the described lots, also known as subdivision. In addition, dimensions and acreage on selected parcels and condominium unit numbers may be available in some areas.
Provided Data and Format: there is no compiled or gathered data – unlike traditional property records, Parcel Maps are digital reproductions of authentic documents considered as reliable and accurate as the originals. All retrieved maps are downloadable and viewable as a full high-resolution PDF file.